I fatti più curiosi successi durante l'eclissi di sole
Commenti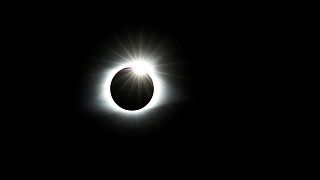 Ora che dell'eclissi di sole non rimane che uno splendido ricordo (per i fortunati che l'hanno potuta vedere), Euronews vi propone una serie di curiosità da tutto il mondo legate allo spettacolare evento.
Occhio all'eclissi
Nella nostra selezione non poteva mancare il presidente Trump. Il numero uno della Casa Bianca è stato fotografato mentre guarda il cielo assieme a sua moglie Melania senza alcuna protezione per gli occhi.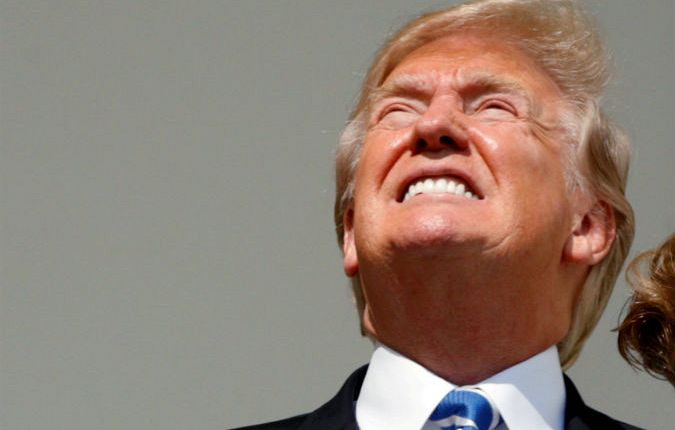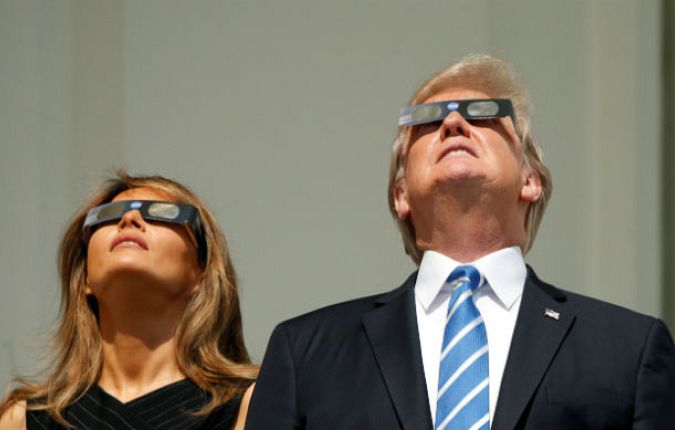 C'è da dire che negli anni '20 i bambini guardavano l'eclissi usando vetri affumicati direttamente su un falò…
New York kids use pieces of smoked glass to view the Total Solar Eclipse of 1925 #SolarEclipsepic.twitter.com/05NxyQDyRP

— 41 Strange (@41Strange) August 21, 2017
Capra, capra, capra… miotonica
Una tra le cose più bizzarre avvenute durante l'eclissi solare, l'ha proposta l'autorevole Washington Post: un Facebook live su un branco di capre.
Il quotidiano americano intendeva infatti verificare come reagiscono i belanti ovini quando il sole scompare all'improvviso. Per ora la scienza ci dice che le capre affette da una particolare disfunzione, detta miotonica, irrigidiscono i loro muscoli quando sono spaventate e in certi casi possono anche svenire. Ieri però tutte le capre hanno superato la prova dell'eclissi senza perdere i sensi, ha precisato il Washington Post in un tweet.
Pendant une éclipse solaire, les animaux font tout un tas de choses étranges https://t.co/4j9×2M8vX2 via News</a> Republic</p>— François Taddei (FrancoisTaddei) August 19, 2017
Total eclipse of the heart
L'allineamento Sole-Luna-Terra ha portato bene alla cantante gallese Bonnie Tyler. La sua hit Total Eclipse of the heart è balzata al vertice delle vendite su iTunes a 34 anni dalla sua uscita. I download della canzone, secondo Nielsen Music, sono aumentati del 503% la scorsa. E Bonnie Tyler come ha festeggiato? Ha cantato il suo successo a bordo della nave da crociera Royal Caribbean 'Oasis of the Seas'.
Eclissi marziana
Lo ha detto l'astronauta francese Thomas Pesquet in un tweet. Il prossimo allineamento Sole-Luna-Terra visible dall'Europa (Francia in particolare) sarà nel 2081. Chi scrive non sarà di sicuro più tra voi per ricordarvelo, quindi chi non vuooe perdersi l'appuntamento si invii una mail a tempo per ricordarsi l'appuntamento col sole nero. Pesquet è sicuro che per quell'occasione l'uomo sarà finalmente arrivato su Marte e si potrà vedere uno spettacolo unico: il sole nero sul pianeta rosso.
La prochaine éclipse solaire totale en France métropolitaine, ce sera en 2081… On aura marché sur Mars d'ici là! #SolarEclipse2017

— Thomas Pesquet (@Thom_astro) August 21, 2017
The dark side of the Moon
A proposito di astronauti, vale la pena di ricordare che, come dice Buzz Aldrin, 24 uomini hanno visto più eclissi solari, ogni volta che la navetta Apollo transitava dietro la faccia nascosta della Luna.
There are 24 Americans who were treated to a close up of the solar system's shadow of the moon. #Apollo#Eclipse2017pic.twitter.com/k3ayXl1BTX

— Buzz Aldrin (@TheRealBuzz) August 20, 2017
It occurred to me that I got to see quite a few solar eclipses. Every time we orbited into the shadow of the moon. #Apollo11#eclipse2017

— Buzz Aldrin (@TheRealBuzz) August 19, 2017
Camera con vista Terra
E per restare in tema eccovi un tweet dell'astronauta italiano Paolo Nespoli, attualmente in orbita intorno alla terra sulla stazione spaziale internazionale.
Voila! The #Eclipse2017 shadow from Space_Station</a>, no words needed // Voilà! L'eclisse vista dalla Stazione Spaziale, non servono parole... <a href="https://t.co/7kD5AYb5zj">pic.twitter.com/7kD5AYb5zj</a></p>— Paolo Nespoli (astro_paolo) August 21, 2017
---