Belgio: visita lampo di John Kerry a Bruxelles
Commenti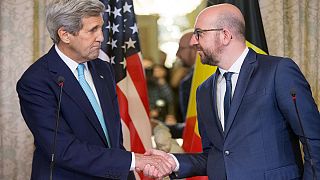 Dopo l'incontro a Mosca con Putin, John Kerry è atterrato all'aeroporto di Bruxelles, ancora chiuso dopo gli attentati di martedì. Il segretario di Stato americano ha incontrato il premier belga. Durante la conferenza stampa congiunta, Charles Michel ha confermato che a luglio il Belgio invierà sei F-16 in Siria per bombardare le postazioni dell'ISIL (caccia che già operano in territorio iracheno).
Kerry ha ribadito che la linea dura contro gli estremisti non cambierà: "Non ci faremo intimidire. Non ci scoraggeremo. Saremo più determinati e avremo più forza e non ci arrenderemo finché non avremo eliminato le loro convinzioni nichiliste e la loro viltà dalla faccia della Terra".
"Ho avuto l'occasione – ha dichiarato il premier belga Charles Michel – di esprimere la mia vicinanza per tutte le vittime americane di questi tragici eventi. La presenza di John Kerry a Bruxelles, dopo questi attacchi, è un segno importante dell'amicizia tra Stati Uniti e Belgio".
Heartfelt condolences of JohnKerry</a> and <a href="https://twitter.com/POTUS">POTUS are a huge support for Belgium. The challenge we face is a common one pic.twitter.com/bZj3BLHIAa

— Charles Michel (@CharlesMichel) March 25, 2016
Due le vittime statunitensi, almeno una decina i feriti. Durante le cinque ore a Bruxelles, Kerry ha incontrato il presidente della Commissione europea Jean Claude Juncker e ha deposto una corona di fiori in segno di omaggio alle vittime degli attacchi terroristici.
Met with CharlesMichel</a> and <a href="https://twitter.com/dreynders">dreynders, reaffirmed U.S. support for efforts to investigate #BrusselsAttacks & help in any way.

— John Kerry (@JohnKerry) March 25, 2016