Crisi di governo: Mattarella convoca Mario Draghi per mercoledi alle 12
Commenti
Di Euronews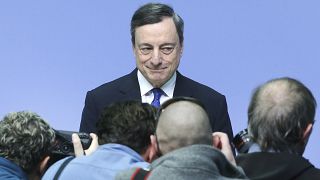 -
Diritti d'autore

Michael Probst/Copyright 2017 The Associated Press. All rights reserved.
Il presidente italiano Sergio Mattarella ha convocato l'ex presidente della Banca centrale europea Mario Draghi per colloqui mercoledì a pranzo,
L'annuncio è arrivato subito dopo l'incontro con il Presidente della Camera Roberto Fico, salito al Colle per informare il Presidente della Repubblica del fallimento delle trattative per la presenza di veti incrociati degli schieramenti politici.
Poco dopo l'incontro Mattarella ha dichiarato in conferenza stampa "Il voto non è opportuno con l'emergenza-Covid, serve un governo d'alto profilo, con pienezza delle funzioni".
Mario Draghi, accreditato per aver salvato l'eurozona nel 2012 nel mezzo della crisi del debito, è un uomo rinomato per la sua discrezione, serietà e determinazione. Ha una laurea in economia e un dottorato del prestigioso Massachusetts Institute of Technology (MIT)"