WGC FedEx, Koepka insuperabile
Commenti
Di ANSA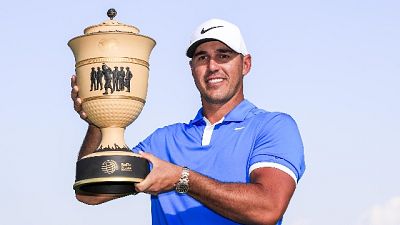 (ANSA) – ROMA, 29 LUG – Inarrestabile Brooks Koepka. A
Memphis l'americano vince anche il WGC-FedEx St. Jude
Invitational e si conferma come il golfista più forte al mondo.
Leader mondiale, Mr.Major, Player of the Year sul PGA Tour.
Koepka nel Tennessee ha confermato tutto il suo strapotere
superando, con 264 (-16) colpi, Webb Simpson, secondo con 267
(-13). "E' un successo speciale – la gioia dell'americano – ho
giocato bene e ora mi godo questo momento. Questi ultimi anni
sono stati entusiasmanti. Ho imparato molto, nelle vittorie come
nelle sconfitte". Negli Stati Uniti 3/o posto per l'australiano
Marc Leishman (268, -12), 4/o per il nordirlandese Rory McIlroy
(leader dopo il terzo round) e i britannici Tommy Fleetwood e
Matthew Fitzpatrick (269, -11). E' il primo titolo in carriera
sul mini circuito mondiale (eventi per importanza secondi solo
ai Major) per Koepka, campione anche d'incassi. Borsa da
1.745.000 dollari per il ventinovenne di West Palm Beach, che
allunga anche il proprio vantaggio nelle classifiche mondiali.
euronews pubblica le notizie d'ansa ma non interviene sui contenuti degli articoli messi in rete. Gli articoli sono disponibili su euronews.net per un periodo limitato.