Usa, la bufera "Stella" si abbatte sulla costa nord orientale.
Commenti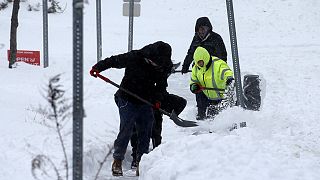 E' stata ribattezzata "Stella" la più imponente bufera della stagione che si è abbattuta sula costa nord orientale americana. La tempesta di neve arrivata oggi, interesserà un totale di 84 milioni di abitanti. Le città più colpite New York dove sono attesi 60 cm di neve e Boston. Trasporti pubblici in tilt, scuole e uffici chiusi. Problemi soprattutto per i voli aerei, piu di 5.800 quelli cancellati in tutti gli Stati Uniti. 35.000 persone sono rimaste senza elettricità in New Jersey. 100.000 tra la Virginia e la Pennsylvania.
Winter Storm Stella wrecks havoc as blizzards hit US Northeast – jenniematthew</a><a href="https://t.co/DD5r0BbmJI">https://t.co/DD5r0BbmJI</a> <a href="https://t.co/pDkZcJn7K0">pic.twitter.com/pDkZcJn7K0</a></p>&mdash; AFP news agency (AFP) 14 marzo 2017
A New York è stato dichiarato lo stato di emergenza. Newark in New Jersey, la Guardia a New York e il Boston Logan International Airport sono gli aereoporti con il maggior numero di voli cancellati.
Weather conditions at EWR Airport have caused flight disruptions. Please check with your airline to determine the status of your flight. [70

— Newark Liberty (@EWRairport) 14 marzo 2017
L'allerta meteo ha interessato gran parte della regione tra cui Pennsylvania, New Jersey e Connecticut con temperature di 15,30 gradi al di sotto della media. Una tempesta da molti non attesa visto l'inverno mite registrato questa stagione nella costa orientale.