Siria, l'Onu approva la tregua di Russia e Turchia
Commenti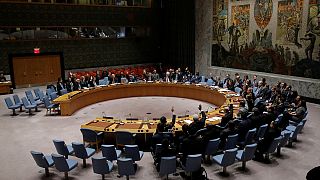 All'unanimità il Consiglio di Sicurezza delle Nazioni Unite ha adottato una risoluzione a supporto degli sforzi da parte della Russia e della Turchia per porre fine alla violenza in Siria e per dare un forte impulso ai negoziati di pace.
Syria: UN Security Council supports Russia-Turkey efforts to & violence and jumpstart political process https://t.co/iiK7CjLIuyhttps://t.co/q1RUpqBIYN

— United Nations (@UN) December 31, 2016
I quindici membri hanno votato tutti a favore della misura, che sostiene gli sforzi verso nuovi negoziati, previsti a fine gennaio ad Astana, come ha sottolineato lo stesso ambasciatore russo presso il Palazzo di Vetro Vitaly Churkin: "Si tratta di un'iniziativa molto importante. La risoluzione conferma la necessità di stabilire e rispettare la tregua così come conferma la necessità di una riunione nella capitale del Kazakhstan." Riunione che si dovrebbe tenere sotto l'egida di Mosca, Ankara e Teheran.
#UNSC adopts resolution that welcomes & supports efforts by Russia & Turkey to end the violence in #Syria and jumpstart a political process. pic.twitter.com/9rbZrnhAcM

— NZ Mission to the UN (@NZUN) December 31, 2016
Nonostante qualche violazione isolata, la tregua, entrata in vigore alla mezzanotte di giovedì su tutto il territorio siriano, sembra reggere. Alcuni scontri sarebbero stati segnalati nella provincia di Hama, in quella ad ovest di Aleppo e intorno Damasco. Intanto l'Onu chiede a tutte le parti di garantire l'accesso di aiuti umanitari per i circa 700.000 civili nelle 15 aree del Paese che rimangono sotto assedio.