Accordo sul nucleare, Rohani: "Una pagina d'oro per l'Iran"
Commenti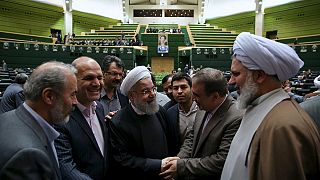 "Una vittoria gloriosa": così il presidente dell'Iran è tornato a commentare l'accordo sul nucleare. Lo ha fatto a più riprese, prima sabato in un tweet quando l'accordo è entrata in vigore definitivamente.
#ImplementationDay—I thank God for this blessing & bow to the greatness of the patient nation of Iran. Congrats on this glorious victory!

— Hassan Rouhani (@HassanRouhani) January 16, 2016
"Questa intesa apre una nuova pagina nelle relazioni tra l'Iran e il mondo", ha ribadito in Parlamento, durante la presentazione di una bozza di bilancio per il prossimo anno fiscale.
"Questa è una pagina d'oro scritta nella storia del Paese. Nel corso dei negoziati siamo riusciti a vedere riconosciuti dalle grandi potenze i nostri diritti sul nucleare", ha detto Hassan Rohani.
L'accordo fra l'Iran e i Paesi del 5+1 (Cina, Francia, Germania, Regno Unito, Russia e Stati Uniti) è stato raggiunto a Vienna il 14 luglio scorso, dopo 16 giorni di negoziati. L'Arabia Saudita e Israele sono i due principali Paesi a essersi opporsi all'accordo che riforza la posizione dell'Iran nello scacchiere mediorientale.
"Sono tutti felici, eccetto i sionisti e i guerrafondai, quelli che provocano le divisioni all'interno del mondo musulmano", ha aggiunto il presidente dell'Iran.
Per il Paese si apre una nuova promettente stagione economica. Con la fine delle sanzioni il petrolio iraniano sarà reimmesso nel mercato. Nel 1979, prima della rivoluzione islamica, Teheran estraeva fino a 6 milioni di barili al giorno.