Exomars, sonda sempre più vicina a Marte
Commenti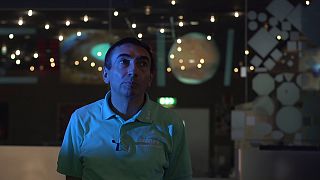 Prosegue il nostro viaggio verso il pianeta rosso con la missione dell'ESA, ExoMars. In questa puntata abbiamo incontrato il Professore Michel Denis, Flight Director all'ESA. In questo momento il veicolo spaziale è sempre più vicino al Pianeta Rosso e la tensione sale.
I'M OVERHALFWAY TO #MARS! ~250million km travelled of the nearly 500million km journey. #ExoMarspic.twitter.com/uWWHctxmIp

— ExoMars orbiter (@ESA_TGO) 22 juin 2016
Il Professore Miche Denis ci ha spiegato che è stato completato quasi per intero la fase di crociera: "abbiamo lasciato la Terra circa 6 mesi fa e in poche settimane abbiamo intenzione di arrivare su Marte. Non possiamo ritardare di un giorno, di un minuto l'arrivo su Marte. Tutto dipende solo da noi, il conto alla rovescia è cominciato e ora non possiamo più fermarlo."
Get to know #ExoMarsESA_EDM</a>'s landing site with new images & movie from <a href="https://twitter.com/hashtag/Mars?src=hash">#Mars</a> Express: <a href="https://t.co/Z8hT0x5kkX">https://t.co/Z8hT0x5kkX</a> <a href="https://t.co/JyhBIxszst">pic.twitter.com/JyhBIxszst</a></p>&mdash; ESA_ExoMars (@ESA_ExoMars) 11 août 2016
Sempre secondo il Prof. Denis le possibilità di successo dell'orbiter TGO sono molto alte, così come le possibilità di successo del lander Schiaparelli, ma è più difficile atterrare su Marte rispetto al lancio in orbita.
#ExoMars entry, descent & landing demonstrator module, Schiaparelli, will separate from ESA_TGO</a> 16 Oct, land 19 Oct <a href="https://t.co/4PXMBvDBLv">pic.twitter.com/4PXMBvDBLv</a></p>&mdash; ESA_Schiaparelli (ESA_EDM) 28 juillet 2016
Per il team dell'ESA, prosegue il Prof Denis, Marte è il coronamento di un sogno. Enormi distanze, spazi enormi, è straordinaria l'idea che gli esseri umani un giorno possano visitare questo pianeta o anche rimanere lì. E poi sarebbe incredibile capire se se ci sia stata, o ci sia ancora, vita su Marte.
Image of the Week: Testing the parachute that will slow Schiaparelli for Mars landing in Oct https://t.co/bWeLCmP9Gkpic.twitter.com/BlaIa4i0to

—

ESA

Science (@esascience) 27 juin 2016