Virginia: scontri al raduno suprematista: 3 morti
Commenti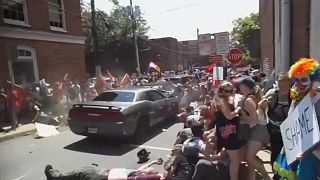 Ha un nome il conducente dell'auto che si è lanciata in corsa contro una folla di manifestanti scesi per strada a Charlotttesville in Virginia per fermare un raduno dei suprematisti bianchi. Si chiama James Alex Fields, 20 anni. L'uomo poi arrestato, come mostrano le immagini dello schianto ha travolto la folla dei contromanifestanti uccidendo una donna di 32 anni, colpita mentre attraversava la strada.
Video captures the moment a car plowed through a crowd of protesters and then reversed through the street in #Charlottesville, Virginia. pic.twitter.com/nIYtBMPQCO

—

NBC

News (@NBCNews) 12 agosto 2017
Il governatore della Virginia Terry McAuliffe dopo aver proclamato lo stato di emergenza non ha usato mezzi termini, condannando gli scontri avvenuti durante la manifestazione:
"Ho un messaggio per tutti i suprematisti e nazisti che sono venuti oggi a Charlottesville", ha detto il governatore che ha continuato:"andatevene".
Parole di condanna anche dall'ex presidente Obama che su twitter invita ad abbandonare l'odio citando Mandela e dal Presidente in carica Donald Trump.In un incidente parallelo un elicottero della polizia che monitorava gli scontri in corso a Charlottesville, si è schiantato. Due agenti che si trovavano a bordo del velivolo hanno perso la vita.
L'Fbi ha fatto sapere di aver aperto un'indagine su possibili violazioni dei diritti civili per l'incidente.
"…For love comes more naturally to the human heart than its opposite." – Nelson Mandela

— Barack Obama (@BarackObama) 13 agosto 2017