Antonio Guterres, una nuova era per l'ONU?
Commenti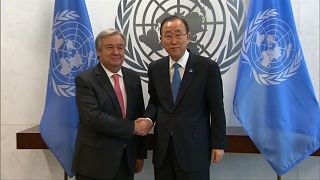 Non sarà un mandato semplice quello Antonio Guterres. Il successore di Ban Ki-moon, dal 1 gennaio nuovo segretario generale dell'ONU, eredita crisi e situazioni complicate a livello internazionale. Dalla guerra in Siria, alla crescente tensione tra Russia e Occidente, dal terrorismo dilagante, all'emergenza profughi, all'aumento della povertà in Africa fino ai problemi ambientali che minacciano il futuro dell'umanità.
#TBT – earlier this month António Guterres was sworn in as 9th Secretary-General of the United Nations. His term begins on 1 January. pic.twitter.com/B9PUjG09CG

— United Nations (@UN) 29 dicembre 2016
Nuova era per l'ONU?
Tutte sfide che aspettano risposte concrete, specie da parte delle Nazioni Unite. Un organismo travolto negli ultimi tempi da parecchie critiche. C'è chi si domanda se Guterres sia davvero l'uomo giusto al posto giusto. Secondo alcuni addetti ai lavori sembra almeno essere sulla giusta strada. "Penso che sarà molto più sincero, grazie alla profonda conoscenza della complessità della realtà politica del mondo", sostiene George Joseph della Caritas. "Potrebbe portare la comunità globale a fare di più, senza usare troppa retorica, ma solo azioni concrete. Per trovare soluzioni al problema dei poveri e dei migranti."
Incoming #UN Secretary General #AntonioGuterres says, #Syrianconflict has become a cancer on global scale. pic.twitter.com/IkQkrXUnw2

— Newspoint (@NewspointTv) 29 dicembre 2016
Al momento della sua nomina, l'ex primo ministro portoghese, che aveva messo d'accordo Mosca e Washington, aveva dichiarato che per il Palazzo di Vetro iniziava una nuova era: "Con una visione che abbraccia i diritti umani e una seria visione assunta in base ai valori che rappresentano, sono convinto che sarà possibile invertire questa tendenza di degrado a cui abbiamo assistito a livello internazionale su questo tema negli ultimi tempi."
Il 67enne Antonio Guterres, forte del suo ruolo a capo dell'Alto commissario delle Nazioni Unite per i rifugiati, ha una grande esperienza nel campo dei migranti, dei rifugiati e dei diritti umani, esperienza che porta con sé nel suo nuovo incarico all'ONU. E c'è chi scommette che i suoi risultati saranno sicuramente più soddisfancenti di quelli di Boutros Boutros-Ghali e Kofi Annan.
António Guterres pledges to work for peace, development and a reformed United Nations. https://t.co/bWVuLkWwNSpic.twitter.com/nvEC1bMwmQ

—

UNIC

Manila (@unicmanila) 19 dicembre 2016