Clima: chiusa la COP22, entro il 2018 il regolamento sull'Accordo di Parigi
Commenti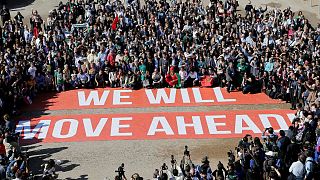 Ancora nessuna misura concreta, ma l'adozione di un programma di lavoro per definire entro il 2018 le regole per l'applicazione dell'accordo sul clima di Parigi. Si è conclusa così la COP22 di Marrakech, in Marocco, dove per due settimane si sono riuniti i rappresentanti dei circa 200 Paesi che l'anno scorso avevano deciso di contenere il surriscaldamento globale ben al di sotto dei 2 gradi rispetto ai livelli pre-industriali.
Civil society and governments leave climate talks in Morocco determined to save the planet. #COP22#WeWillMoveAheadpic.twitter.com/6mI6npj1Wl

— Greenpeace (@Greenpeace) 18 novembre 2016
Rinviate alle prossime riunioni le modalità di dotazione del Fondo Verde da 100 miliardi di dollari da istituire entro il 2020 per aiutare i Paesi in via di sviluppo.
Le discussioni su questo punto fondamentale dell'Accordo non hanno segnato progressi, spiega Lutz Weischer, team leader di International Climate Policy, Germanwatch: "Sono un po' preoccupato per la mancanza di finanziamenti per l'adattamento ai cambiamenti climatici. In questa COP, che si è tenuta in Africa, è stato riconosciuto che occorre destinare maggiori fondi all'adattamento, ma purtroppo non ci sono stati passi concreti".
"Contiamo sul suo pragmatismo": la conferenza ha anche lanciato un appello alla cooperazione al presidente-eletto degli Stati Uniti.
Grégoiry Lory, euronews: "Per tutti i partecipanti della COP22, la proclamazione di Marrakech è un segnale positivo e dimostra anche che l'elezione di Donald Trump non ha minato l'ambizione della comunità internazionale. Tuttavia, il testo non fa che ribadire gli impegni già sottoscritti contro il surriscaldamento globale".
Fiji is honored to preside over #COP23 to be held in Bonn, Germany in 2017. -Frank Bainimarama, Prime Minister of Fiji pic.twitter.com/57xPzC7W33

— COP22 (@COP22) 18 novembre 2016
Poland will host #COP24 in 2018 UNFCCC</a> <a href="https://t.co/vLGao7FG4n">pic.twitter.com/vLGao7FG4n</a></p>&mdash; COP22 (COP22) 18 novembre 2016