Colombia: nuove speranze di pace dopo l'assegnazione del Premio Nobel
Commenti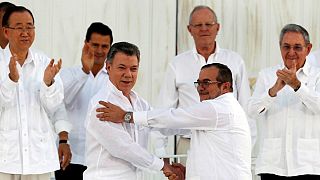 Torna la speranza in Colombia, dopo l'assegnazione del Premio Nobel per la Pace al Presidente
Juan Manuel Santos. Dopo lo choc per la bocciatura nelle urne lo scorso 2 ottobre dell'accordo siglato tra governo e Farc, ora il premio sembra portare un nuovo appoggio per il processo che ha messo fine a 52 anni di conflitto.
"The fact that this award may be controversial will not surprise the committee. .." https://t.co/pB1bU7lhd0

— The Nobel Prize (@NobelPrize) 7 October 2016
Per la pace si manifesta nel centro di Bogotà, ma si manifesta anche contro anche quel fronte del "NO", guidato dall'ex presidente ultraconservatore Uribe.
"Questo premio Nobel non è la pace – dice un manifestante – Non c'è ancora un accordo definito ed è quello che vogliamo. Questa è la prima cosa e la seconda è che penso che occorra spersonalizzare il premio. Questo Nobel è delle vittime e per le vittime".
"Penso che il premio sia la dimostrazione del sostegno della comunità internazionale alla Colombia – sottolinea un cittadino – E qui vogliamo profondamente trovare una soluzione immediata ad un conflitto che ci è costato così tante vite. È un "SÌ" per il paese".
La Colombia vorrebbe voltare pagina, dopo un conflitto che ha provocato la morte di almeno 220mila persone.
"L'assegnazione del premio Nobel per la pace al presidente Juan Manuel Santos, ha colmato di speranza la Colombia, soprattutto coloro che insistono che gli accordi vadano ratificati al più presto.
Da L'Avana è stato annunciato che verrà ascoltata la voce del "NO". Tuttavia ogni cambiamento o modifica deve essere concordate tra il governo colombiano e la delegazione delle FARC. Da Bogota, Natalia Orozco, euronews ".