Elezioni Irlanda: niente maggioranza secondo gli exit poll
Commenti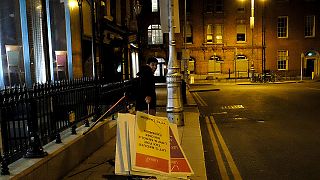 C'è un destino che rischia di accomunare tutti i Paesi segnati dall'austerità. La fragilità delle legislature elleniche è nota. E dopo Portogallo e Spagna, il rischio ingovernabilità si fa sempre più concreto anche in Irlanda.
In attesa dei risultati veri, gli exit poll danno il Fine Gael del premier Enda Kenny è dato al 26,1%, gli alleati laburisti al 7,8.
Your friends and family need to know that the choice today is a critical one. Polls are open until 10pm #ge16pic.twitter.com/d8dzOgQDH7

— Enda Kenny (@EndaKennyTD) 26 febbraio 2016
Dopo l'azzardo del ritorno anticipato alle urne, i numeri per un governo paiono proprio non esserci.
Il centro destra di Fianna Fail si attesta su un consistente 22 per cento, mentre lo Sinn Fein di Jerry Adams, tradizionalmente considerato legato all'Ira, diventa il terzo partito con il 14,9 per cento.
Gerry Adams comments as polls close in election 2016 https://t.co/1zNNq6bWU0#GE16

— Sinn Féin (@sinnfeinireland) 26 febbraio 2016
Fa ancora di più, superando il 16%, l'Alleanza degli indipendenti, che però non è costituita come partito e i cui eletti potrebbero anche muoversi in ordine sparso.
Di rilievo anche il 3,6% dell'Alleanza anti austerità. Tema, l'avversione alle misure restrittive degli ultimi anni, che accomuna tutti i partiti cresciuti in questa tornata elettorale.
Che rischia, però, ora, di consegnare un parlamento nel quale sarà impossibile trovare 79 deputati che sostengano un nuovo governo.