Aereo malese per Singapore scompare dai radar con oltre 160 persone a bordo
Commenti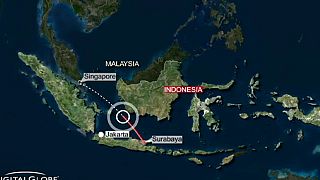 Momenti d'ansia all'aeroporto di Singapore, verso cui era diretto il volo della compagnia low coast malese AirAsia, scomparso dai radar con oltre 160 persone a bordo.
AirAsia Indonesia regrets to confirm that QZ8501 from Surabaya to Singapore has lost contact at 07:24hrs this morning http://t.co/WomRQuzcPO

— AirAsia (@AirAsia) 28 Dicembre 2014
Accanto a una stragrande maggioranza di indonesiani, sulle liste diffuse dalla compagnia, figurano anche un copilota francese, tre sudcoreani, un cittadino di Singapore e uno della Malesia.
L'aereo, un Airbus A 320-200, era partito dalla città indonesiana di Surabaya. Prima di scomparire dai radar, il pilota aveva chiesto di aumentare l'altitudine di volo per evitare delle perturbazioni.
PHOTO: Relatives, firends look at passenger list of #QZ8501 flight at Juanda Airport, Surabaya http://t.co/LhFehpIYB0pic.twitter.com/h1surd3qi7

— RT (@RT_com) 28 Dicembre 2014
L'aviazione indonesiana sta concentrando le ricerche intorno all'isola di Beitung, non lontano da Sumatra. Le autorità locali hanno confermato condizioni meteo avverse nella zona e alcuni media del posto già parlano di inabissamento in mare.
Il sito Flightradar, che monitora lo status dei voli, invita a non nutrire false speranze per quello di "atterraggio", associato all'aereo in questione. Si tratta di una formula, spiegano, che si utilizza ogni qualvolta si perde contatto con un aereo.
The #QZ8501 status on Flightradar24 says "landed". This status comes from our data provider and is common when data for a flight is missing

— Flightradar24 (@flightradar24) 28 Dicembre 2014
Sulla propria pagina Facebook, la compagnia AirAsia ha informato che le ultime operazioni di manutenzione a cui era stato sottoposto l'aereo risalgono a poco più di un mese fa.