Graduale ripresa dei voli di British Airways da Heathrow e Gatwick
Commenti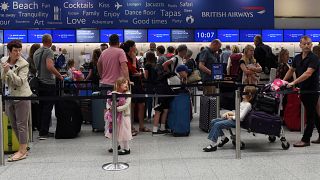 Riprendono gradualmente i voli di British Airways dagli aeroporti britannici di Heathrow e Gatwick, dopo le cancellazioni di sabato dovute al blocco del sistema informatico. Domenica dai due scali dovrebbe partire la maggior parte degli aerei, ma Heathrow ha consigliato ai passeggeri a cui ieri è stato annullato il volo di non recarsi in aeroporto a meno che non siano stati dirottati su altri velivoli e ha detto di aspettarsi altri ritardi e cancellazioni. A Gatwick la programmazione dei voli dovrebbe tornare quasi normale.
Please don't travel to the airport today, 28 May, unless you have a confirmed booking. Check your flight status here https://t.co/rwEDLdx8me

— British Airways (@British_Airways) 28 mai 2017
La compagnia ha escluso l'ipotesi di un cyberattacco e ha attribuito il blocco a un guasto elettrico che ha costretto i passeggeri ad attendere per ore, in un fine settimana particolarmente movimentato visto che molti britannici avevano programmato di partire in vacanza perché lunedì è un giorno festivo e molte scuole sono chiuse.