Gb: La scelta coraggiosa di Theresa May
Commenti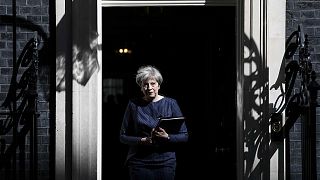 Elezioni anticipate, a sorpresa, in Gran Bretagna l'8 giugno. Le ha annunciate la premier Theresa May in un inatteso discorso alla nazione tenuto davanti al numero 10 di Downing Street. A sorpresa perchè la stessa May le aveva ripetutamente escluse nei mesi scorsi. La premier inglese può contare, secondo i sondaggi sul netto vantaggio del suo Partito Conservatore rispetto all'opposizione laburista di Jeremy Corbyn alle prese con conflitti interni e la Primo Ministro scozzese Nicola Sturgeon che è più impegnata nell'organizzazione del referendum bis per l'indipendenza della Scozia.
IL TWEET DI THERESAMAY
We need an election now to secure the strong, stable leadership the country needs to see us through Brexit & beyond. https://t.co/8jhvoAcLuR

— Theresa May (@theresa_may) 18 aprile 2017
Tutte queste componenti dovrebbero essere in grado, sulla carta, di rafforzare la posizione della May nel cammino verso la Brexit, il divorzio del Regno Unito dall'Unione Europea. Il leader laburista Corbyn si è detto favorevole alla richiesta di elezioni anticipate in quanto, ha detto, "sarebbero una buona opportunità per far vincere il suo partito e quindi restituire speranza e opportunità economiche a tutti".
IL TWEET DI JEREMYCORBYN
I welcome this #GeneralElection as an opportunity to form a Labour government that can transform Britain. pic.twitter.com/5PyPEX6CnM

— Jeremy Corbyn MP (@jeremycorbyn) 18 aprile 2017
Attualmente, i conservatori hanno la maggioranza con 330 deputati, i laburisti ne hanno 229, a seguire i 54 del Partito Nazionale Scozzese e gli 8 dei Liberal Democratici. Il Partito Conservatore della May, inoltre, mantiene un ampio vantaggio sugli altri anche secondo i sondaggi successivi al suo annuncio.
La Primo Ministro scozzese Nicola Sturgeon affida, invece, a Twitter la sua analisi sull'annuncio a sorpresa di Theresa May. Per la Sturgeon, la Premier inglese vuole portare la Gran Bretagna a destra ed i conservatori intendono anche "forzare il Paese attraverso una hard Brexit e imporre tagli
maggiori". Tra le due non c'è un buon feeling sull'argomento del secondo referendum secessionista scozzese sul quale la Sturgeon si era sbilanciata nel volerlo entro il 2019. Ma visto quanto annunciato dalla May, anche questa deadline, forse, verrà anticipata.
IL TWEET DI NICOLASTURGEON
The Tories see a chance to move the UK to the right, force through a hard Brexit and impose deeper cuts. Let's stand up for Scotland. #GE17

— Nicola Sturgeon (@NicolaSturgeon) 18 aprile 2017