Raid Siria, per la Russia colpito un arsenale chimico dei ribelli
Commenti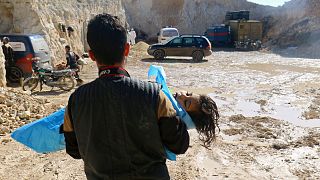 Il comando generale delle forze armate siriane "smentisce in maniera categorica" di avere compiuto l'attacco di Khan Sheikhun con armi chimiche. La smentita arriva anche da Mosca. Secondo la Russia è stato colpito un arsenale chimico dei ribelli.
Intanto gli Stati Uniti ritengono che nel raid dove sono morte 58 persone tra cui molti bambini, sia stato usato il gas "sarin", e a confermarlo le diagnosi dei medici degli ospedali che hanno ravvisato nelle persone ricoverate tutti i sintomi coerenti con l'uso di agenti nervini. "Questo ospedale ora è strapieno di persone ricoverate che sono stati colpiti da un qualcosa di chimico – dice un volontario dell'ospedale – questo non è il cloro. Non è odore di cloro su questo paziente. Ne abbiamo visti diversi di attacchi con il cloro e questo paziente ha chiaramente le pupille puntiformi"
Save The Children chiede una attenta indagine già a partire dall'immediato Consiglio di Sicurezza dell'Onu e in una nota si dice "attonita" di fronte ai tanti bambini colpiti. "Dormivo quando l'aereo da guerra ci ha colpito – rivela un bambino scampato all'attacco – sono andato fuori con il papà, ma la mia testa mi ha iniziato a girare . Mi sono addormentato e quando mi sono svegliato mi sono ritrovato qui in ospedale".
IL TWEET DI SAVETHECHILDREN
We are appalled by what appears to be a series of chemical attacks today in #Idlib, #Syria. https://t.co/RM2Ma1XP5q

— Save the Children US (@SavetheChildren) 4 aprile 2017
Condanna anche da parte della Turchia. Ankara in una nota spiega che in base allo informazioni in loro possesso il governo siriano ha autorizzato l'uso di armi chimiche chiaramente in violazione delle risoluzioni del Consiglio di sicurezza della Nazioni Unite.