L'Fbi chiede al Dipartimento di Giustizia di smentire le accuse di Trump ad Obama
Commenti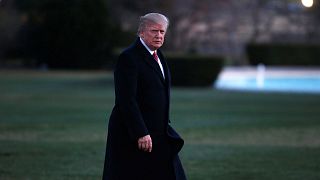 La crociata di Donald Trump contro l'ex-Presidente Barack Obama si scontra con la parola del Direttore dell'Fbi. Secondo il New York Times, James Comey ha chiesto al Dipartimento di Giustizia di smentire le accuse di Trump secondo cui l'amministrazione Obama lo avrebbe fatto intercettare a un mese dalle presidenziali.
Domenica è arrivata la richiesta di un'indagine del Congresso sul possibile abuso di potere da parte di Obama. Richiesta formulata attraverso un tweet del portavoce della Casa Bianca Sean Spicer. A sabato risale il tweet di Trump che ha scatenato un gravissimo scontro istituzionale.
(2/4) President Trump is requesting that as part of their investigation into Russian activity, the congressional intelligence committees

— Sean Spicer (@PressSec) 5 marzo 2017
(3/4) exercise their oversight authority to determine whether executive branch investigative powers were abused in 2016.

— Sean Spicer (@PressSec) 5 marzo 2017
(4/4) Neither the White House nor the President will comment further until such oversight is conducted.

— Sean Spicer (@PressSec) 5 marzo 2017
How low has President Obama gone to tapp my phones during the very sacred election process. This is Nixon/Watergate. Bad (or sick) guy!

— Donald J. Trump (@realDonaldTrump) 4 marzo 2017
Di fronte alla richiesta di Comey il Dipartimento di Giustizia, guidato dal fedelissimo di Trump Jeff Sessions, non ha reagito. Intanto però a negare la possibilità di qualunque intercettazione ai danni dell'attuale Presidente è stato James Clapper che fino al 20 gennaio era a capo di tutte le agenzie di spionaggio federali.
"Io non posso più fare commenti ufficiali ma come ex-Direttore dell'intelligence nazionale, posso dire che non c'è stata alcuna intercettazione nei confronti di Donald Trump nè quando era candidato nè da Presidente eletto nè da Presidente. E nessuna intercettazione contro la sua campagna" ha detto in un'intervista televisiva.
Riguardo alle accuse di Trump, il solo commento da parte di Obama è arrivato dal suo portavoce: "un principio chiave della sua amministrazione" ha detto Kevin Lewis "è sempre stato quello di non interferire con indagini indipendenti del Dipartimento di Giustizia". Dichiarazione che viene letta da alcuni come un messaggio tra le righe: se ci sono state delle intercettazioni nei confronti di Trump è perchè un'indagine del Dipartimento di Stato le aveva richiesta e non perchè l'iniziativa possa essere venuta dalla Casa Bianca.