Gambia sull'orlo della guerra civile
Commenti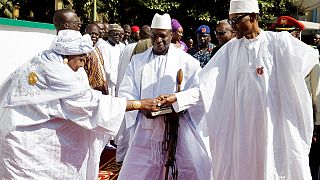 Il Gambia è a un passo dalla guerra civile.
La situazione nel Paese è caotica, con il presidente eletto Adama Barrow che ha prestato giuramento all'interno nell'ambasciata gambiana di Dakar, in Senegal. Qui Barrow si è rifugiato dopo che il Presidente uscente ha deciso di non cedere il potere. Continua così il braccio di ferro Yahia Jammeh, che nonostante abbia perso le presidenziali si rifiuta di lasciare il potere che detiene da 22 anni, denunciando presunti brogli.
I would like to inform you that the Inauguration Ceremony is going to take place at the Gambian Embassy in Dakar, Senegal. #Gambiapic.twitter.com/ofxlIpJChl

— Adama Barrow (@adama_barrow) 19 gennaio 2017
My dearest Gambians — the presidency of Yahya Jammeh is officially over. The new era of Gambia is here at last. #NewGambia

— Adama Barrow (@adama_barrow) 18 gennaio 2017
L'insediamento all'estero di Barrow di fatto apre le porte all'intervento militare in Gambia dei Paesi della Comunità Economica degli Stati dell'Africa Occidentale (CEDEAO/ECOWAS). Già pronti soldati e aerei da combattimento. Barrow, riconosciuto come legittimo Capo dello Stato dalla comunità internazionale, potrà infatti invocare l'intervento degli Stati vicini per deporre Jammeh e prendere il potere.
Sul fronte diplomatico il Consiglio di Sicurezza delle Nazioni Unite vota su un progetto di risoluzione presentato dal Senegal per sostenere l'intervento militare mentre secondo indiscrezioni, Jammeh avrebbe reclutato diversi mercenari originari di Liberia, Sierra Leone, e Mali.
#Gambia: Free at last. The End of Jammeh's Dictatorship #GambiaHasdecided#Senegal#kebetupic.twitter.com/GoSQUrfDoW

— The Gambia Voice (@TheGambiaVoice) 19 gennaio 2017