L'uragano Matthew si avvicina alla Florida. Ma sabato colpirà anche Georgia e Carolina del Sud
Commenti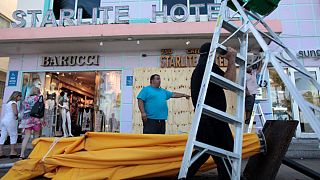 Con venti che superano i 210 chilometri all'ora e piogge torrenziali, l'uragano Matthew, categoria 4 (su una scala di cinque), si avvicina alla Florida.
Per timore di innondazioni, le autorità statunitensi hanno ordinato a più di un milione e mezzo di abitanti l'evacuazione della zona costiera, mobilitati 3.500 militari della guardia nazionale. La città di Daytona ha imposto il coprifuoco obbligatorio che durerà fino a sabato mattina.
If a tornado approaches, move into an interior room of your home.

— Rick Scott (@FLGovScott) October 7, 2016
Secondo il Centro di Sorveglianza degli Urgani, Matthew colpirà anche la Georgia e la Carolina del Sud.
moosedog9501</a> <a href="https://twitter.com/ChathamEMA">ChathamEMA The graphic depicts potential storm surge flooding above ground, see description here https://t.co/rvYmwTOqki

—

NHC

_Surge (@NHC_Surge) October 7, 2016
Il presidente Barack Obama ha già dichiarato lo stato d'emergenza per i tre Stati, e ha già sbloccato aiuti federali.
Hurricane Matthew is as serious as it gets. Listen to local officials, prepare, take care of each other. https://t.co/Vaf8Xubs0s

— President Obama (@POTUS) October 6, 2016