Usa, morte in diretta tv: si spegne in ospedale l'assassino dei due giornalisti
Commenti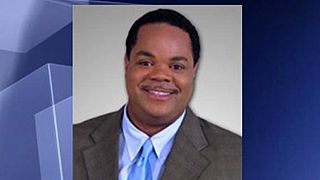 È morto in ospedale per le ferite che si è autoinferto Vester Lee Flanagan, l'uomo che ha fatto fuoco uccidendo, due suoi ex colleghi. A dirlo le autorità della Virginia, stato americano dov'è avvenuta la tragedia.
This is the suspected shooter, Vester Flanigan, who is also known as Bryce Williams. He is a former WDBJ7 employee. pic.twitter.com/ngXrqHVLmw

— WDBJ7 (@WDBJ7) August 26, 2015
Una giornalista e un cameraman di un'emittente locale sono stati freddati in diretta da un ex dipendente della stessa rete, licenziato due anni fa si è sparato nella sua automobile, dopo essere stato fermato dalla polizia al termine di inseguimento. Flanagan è un afroamericano di 41 anni. Come giornalista ha lavorato per un anno con le sue vittime: la cronista Alison Parker che aveva 24 anni, e l'operatore Adam Ward che di anni ne aveva 27, i due lavoravano sempre insieme.
UPDATE: State police now say man suspected of killing two WDBJ7 employees shot himself, and he is still alive http://t.co/XLx3pS2I5X

— WDBJ7 (@WDBJ7) August 26, 2015
La donna intervistata da Alison Parker è rimasta ferita: il suo nome è Vicki Gardner, direttrice della Camera di commercio regionale.
Vicki Gardner of the Smith Mountain Lake Chamber of Commerce was hurt in the shooting. We are told she is in surgery. http://t.co/XLx3pS2I5X

— WDBJ7 (@WDBJ7) August 26, 2015
We are live streaming now.

— WDBJ7 (@WDBJ7) August 26, 2015
La zona è rimasta per ore sotto stretta sorveglianza, la gente è stata invitata a non abbandonare le proprie abitazioni. Le motivazioni del gesto omicida di Flanagan si trovano forse in alcune frasi che l'ex dipendente aveva postato su Twitter. Frasi sconnesse di accuse nei confronti della sua collega Alison Parker, tacciata di aver espresso commenti razzisti nei suoi confronti. L'assassino ha scaricato sulla cronista le responsabilità del suo licenziamento. L'uomo su Facebook aveva anche ha postato il video del duplice omicidio. "Ho filmato la sparatoria, andate a vedere su facebook" aveva scritto sul suo account twitter, anche questo subito sospeso.
Vicki Gardner of the Smith Mountain Lake Chamber of Commerce was hurt in the shooting. We are told she is in surgery. http://t.co/XLx3pS2I5X

— WDBJ7 (@WDBJ7) August 26, 2015