Indonesia: eruzione paralizza aeroporti, 2000 australiani bloccati a Bali
Commenti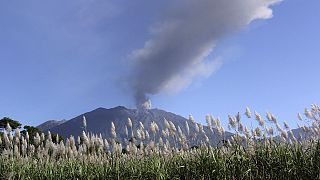 L'eruzione del vulcano Raung costringe alla chiusura 5 aeroporti indonesiani, compresi quelli di Bali.
Vulcano Raung erutta, bloccati 5 aeroporti in #Indonesiahttp://t.co/UtNNOkaIrqpic.twitter.com/bi1NBiu8Rx

— Agenzia

ANSA

(@Agenzia_Ansa) July 10, 2015
Già nella giornata di venerdì molti voli tra la capitale dell'Indonesia e l'Australia erano stati cancellati, il ministero dei Trasporti dice che la riapertura degli aeroporti dipenderà dall'attività del vulcano. Sono oltre 2000 gli australiani rimasti bloccati a Bali. Gli altri scali interessati dalla chiusura forzata sono quelli di Lombok, Jember e Banyuwangi.
For those who will fly today from Bali, Lombok, Jember, Banyuwangi don't need to come to the airport due to the closure.

— Garuda Indonesia (@IndonesiaGaruda) July 10, 2015
Il Raung, vulcano dell'isola di Giava alto oltre 3.300 metri, sta eruttando ceneri e roccia incandescente dallo scorso mese di giugno, ma la sua attività si è intensificata negli ultimi due giorni. I problemi non riguardano solo i cieli: ai residenti dell'isola è stato comunicato di tenersi pronti a lasciare le abitazioni.
Check out map of planes avoiding airspace above Bali & SE Indonesia #ashcloudplanefinder</a> <a href="http://t.co/MErPO5Gxi9">http://t.co/MErPO5Gxi9</a> <a href="http://t.co/JG8V8g2xa5">pic.twitter.com/JG8V8g2xa5</a></p>&mdash; abcnewsNT (abcnewsNT) July 10, 2015