Charleston. Bandiera confederata è simbolo del passato per Governatrice South Carolina
Commenti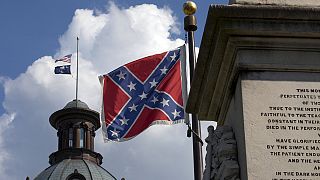 Un simbolo che è parte integrante del nostro passato ma non rappresenta il nostro futuro. Sono le parole con cui la governatrice del South Carolina Nikki Haley punta a porre termine alle polemiche sulla presenza della bandiera confederata, sfoggiata dal killer di Charleston e che ancora sventola sulla House State di Columbia, capitale dello Stato che ha vissuto una delle peggiori stragi a sfondo razziale nella storia recente degli Stati Uniti.
Nikki Haley, Governatrice del South Carolina: "È arrivato il momento di dire che quella bandiera, benchè sia parte integrante del nostro passato, non rappresenta il futuro del nostro grande Stato. L'assassino, ora dietro le sbarre a Charleston, ha detto di auspicare che il suo gesto scateni una guerra delle razze. Abbiamo l'opportunità per dimostrare non soltanto che si sbaglia ma che accadrà esattamente il contrario".
#DylanRoof Manifesto (if him) "Blacks are the real racists" — Hear this every day on Twitter. All of U mentally ill pic.twitter.com/ixyZVncw4b

— #SayHerName (@POPSspotSports) 20 Giugno 2015
Dylan Roof, 21 anni, presunto autore dell'uccisione di 9 persone di colore nella storica chiesa metodista Emanuel, vicino a Charleston, ferneticava sul suo manifesto web che "i neri sono stupidi e violenti e la segregazione è una misura difensiva".
Nei significativi selfie postati sul web sfoggiava la bandiera adottata nel 1861 dagli Stati del Sud che volevano la secessione dal Nord abolizionista.