Champions: Bayern, vittoria inutile. Barcellona in finale
Commenti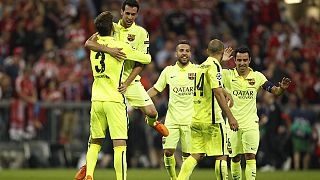 E' il Barcellona la prima squadra qualificata per la finale di Champions League, in programma il prossimo 6 giugno a Berlino. I catalani, che difendevano il 3-0 dell'andata, hanno perso 3-2 all'Allianz Arena contro il Bayern Monaco.
FINAL: #FCBarcelona knock out Pep Guardiola and Bayern Munich 5–3 on aggregate and are headed to Berlin! #HalloBerlin#FCBLive#FCBFCB#UCL

— FC Barcelona (@FCBarcelona) 12 Maggio 2015
La squadra di Luis Enrique soffre solo nelle battute iniziali, quando va sotto per un colpo di testa di Benatia. Poi una doppietta di Neymar, assistito da Suarez, mette in cassaforte la finale per il Barca.
Nella ripresa l'orgoglio Bayern regala i gol di Lewandowski e Muller, che servono solo per addolcire l'eliminazione. Per il Barcellona si tratta dell'ottava finale della storia. I blaugrana hanno vinto il trofeo in 4 occasioni, l'ultimo nel 2011.