Regno Unito, Ed "Mosé" Miliband scrive il suo programma sulla pietra
Commenti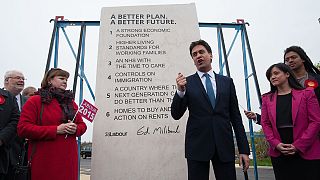 Come un moderno Mosé, Ed Miliband ha deciso di scolpire i suoi "comandamenti" nella pietra. A pochi giorni dall'elezione forse più incerta del Regno Unito, il candidato dell'opposizione, leader del partito laburista, ha inciso su una pietra i sei punti del suo programma così che rimanessero davvero indelebili. Un'azione simbolica e forte ma criticatissima dai media, che trovano possa ritorcerglisi contro, proprio come un boomerang. E, puntuale, è arrivata la reazione dal web… con la solita tagliente ironia… specie su Twitter, con l'ashtag #EdStone.
The first draft of the #EdStonepic.twitter.com/oZf2q4nX3V

— Robert Colvile (@rcolvile) 3 Mai 2015
Caption competition! #EdStonepic.twitter.com/1N32akmzwj

— Peter Thompson (@TheRedRag) 3 Mai 2015
Exodus 19:4 And the Lord did spaketh unto Beaker 'You shall inscribeth your half-baked nonsense onto stone.' #EdStonepic.twitter.com/G7BCuIlRKb

— Nonjob (@nonjob1) 3 Mai 2015
"Tell Ed to write down his 5 year plan in stone. Worked for Stalin. Worked for me. It'll work for him, too" pic.twitter.com/mx1cccajKS" #EdStone

— Peter Village QC (@PeterVillageQC) 3 Mai 2015
Come se non bastasse, c'è anche chi ha pensato alla possibilità di far sì che ognuno possa crearsi la propria pietra con i punti fondamentali del suo programma.
Crea la tua #EdStone qui: http://kryogenix.org/random/ed/ed.html