Isil: peshmerga avanzano a Kirkuk, tesoriere Isil fuggito in Turchia
Commenti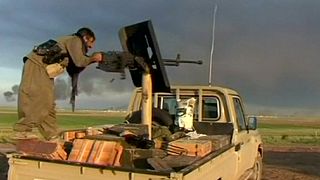 I peshmerga curdi, sostenuti dagli attacchi aerei della coalizione internazionale, hanno conquistato il villaggio Mariam Baik in Iraq, a 30 chilometri da Kirkuk. Ripreso anche l'impianto petrolifero di Khabbaz.
Minister of Peshmerga forces in overall and total control of Kirkuk operations against #ISIS#TwitterKurdspic.twitter.com/k1G4gdOfNo

— گۆڕان Gorran (@Gorran_Change) January 30, 2015
Parallelamente alla guerra, prosegue la fuga dei civili. Il governo turco si aspetta di ricevere altri 35 mila rifugiati. A varcare il confine anche un tesosriere dell'Isil, fuggito portando con sé un milione di dollari del gruppo armato jihadista.
Abou Oubayda al Masri collectait la zakat dans la région de Deir Azzor. Il se trouvait à Al Mayadin. #El#Daechpic.twitter.com/JwPhfecl7m

— Moyen Orient News (@AlJazeeraFrench) February 3, 2015
Mosul, la capitale dell'autoproclamato Stato islamico, è il principale obiettivo della coalizione guidata dagli Stati Uniti. Nelle ultime 24 ore sono stati colpiti quattordici obiettivi nemici, mentre l'Isil ha fatto saltare in aria la chiesa della Sacra Vergine, luogo di culto storico per i cristiani dell'Iraq.
Sources from within Mosul, Iraq report Isis extremists below up yet another historical and religious site-church. pic.twitter.com/Z1S1UsLwab

— Abdullah Muhsin (@Abdullah4NASUWT) February 3, 2015
#Daesh destroys another church in #Mosul#IRAQ. via marsadirq</a> &#10;<a href="https://twitter.com/hashtag/IS?src=hash">#IS</a> <a href="https://twitter.com/hashtag/IslamicState?src=hash">#IslamicState</a> <a href="https://twitter.com/hashtag/ISIL?src=hash">#ISIL</a>&#10;<a href="http://t.co/DoVV7g07gP">pic.twitter.com/DoVV7g07gP</a></p>&mdash; Ammar Altahan (ammaraltahan) February 2, 2015