La cena in un "clic". Ecco la stampante di cibi in 3D
Commenti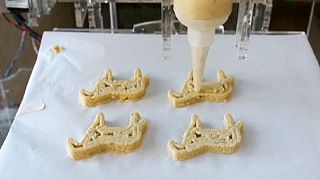 La fantascienza diventa realtà e si appresta a sbarcare in cucina nella forma di una stampante di cibi in 3D.
Crackers printed with 3 simple ingredients: roasted red pepper, soft loaf bread & a pinch of salt. Healthy & delish! pic.twitter.com/rO9iDzEdnz

— Natural Machines (@NaturalMachines) 17 Dicembre 2014
L'idea porta la firma dell'azienda "Natural Machines" e si propone di rimettere la preparazione dei pasti a un semplice "clic". Qualche minuto appena, la scelta della "ricetta" su internet e poi la tecnologia fa il resto.
"Stampiamo con veri ingredienti commestibili – spiega la co-fondatrice di 'Natural Machines', Lynette Kucsma -. Così, invece di costringere la gente ad andare al supermercato e comprare cibi pre-confezionati ricchi di additivi, conservanti e prodotti chimici, speriamo di riportarla direttamente in cucina e di consentirle di tornare a ingredienti più naturali. La tecnologia 3D sarà poi di grande aiuto per… 'dare forma' a questi cibi".
Per le vie di Londra, l'idea della stampante di cibo in 3D non sembra però al momento riscuotere troppi successi. A qualcuno la prospettiva fa storcere il naso e addirittura mancare le parole…
We couldn't enter, but what about healthy, edible 3D printed xmas ornaments? @instructableshttp://t.co/4wVw6V3sAupic.twitter.com/oqF8Do1RXe

— Natural Machines (@NaturalMachines) 19 Novembre 2014
Se "stampare" i propri piatti sembra un concetto ancora indigesto i fantasiosi creatori dell'iniziativa sono convinti che l'idea di una cena preparata con un "clic" avrà presto la meglio. Poco più di 800 euro, il prezzo con cui contano di aggredire il mercato fra poco più di sei mesi.