Proteste a Bruxelles contro la fusione Bayer-Monsanto
Commenti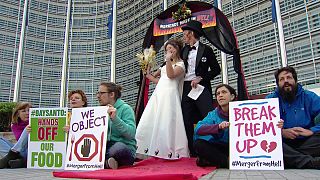 "Quel matrimonio non s'ha da fare" è il messaggio lanciato giovedì da un gruppo di attivisti riuniti sotto la Commissione europea per protestare contro la fusione del gigante tedesco dell'industria farmaceutica Bayer con il colosso americano del settore agroalimentare Monsanto. "Queste cooperazioni hanno già un effetto tossico sulla nostra alimentazione – spiega Adrian Bebb di Friends of the Earth- e se queste fusioni sono permesse, allora si tratta davvero di un matrimonio infelice. Sarà un male per gli agricoltori, per i consumatori e devastante per la natura. La Commissione europea deve impedire che questa fusione avvenga".
Per gli attivisti la nascita del nuovo colosso avrebbe effetti negativi sulla concorrenza nel settore agrochimico, con il rischio che gli agricoltori si ritrovino a comprare le sementi da un solo produttore o di dovere usare un solo pesticida.
Inoltre la fusione spalancherebbe le porte agli OGM, già ampiamente utilizzati negli Stati Uniti.