Il grande jazz sul Collio italo-sloveno: fino a domenica Jazz and Wine of Peace
Commenti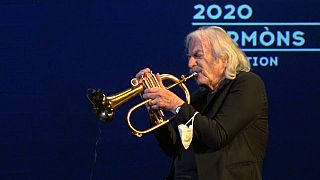 -
Il Jazz d'autunno spande le sue note sui vigneti del Collio italiano e sloveno: tra Cormons e Nova Gorica trenta concerti in cinque giorni per Jazz and Wine of Peace, la rassegna che richiama ogni anno migliaia di appassionati da diversi paesi, soprattutto dell'Europa centro-orientale. Con un'organizzazione ovviamente condizionata dall'emergenza pandemica, che ha finito per pesare anche sul cartellone: alcuni concerti hanno dovuto essere annullati.
Ma dal teatro di Cormons al museo alle cantine tra contrabbassi batterie e calici di vino, fino al Kulturni Dom di Nova Gorica, in tutte le sedi resta la consueta effervescenza che ha fatto il successo e la storia di questo festival, ormai alla ventitreesima edizione.
A Enrico Rava, una delle star della rassegna, abbiamo chiesto dell'importanza del pubblico, anche quando deve essere ridotto e distanziato:
"Non faccio mai una scaletta, la scaletta la faccio durante il concerto anche a seconda di quello che ricevo dal pubblico. Cioè io dò al pubblico la mia energia e quello che so fare, che a volte è poco e a volte è tanto, e loro mi danno un'energia di ritorno. Bisogna che ci siano le condizioni perché questo avvenga".
Rava si è esibito nella serata inaugurale, con Danilo Rea al pianoforte. Nelle ultime due giornate, sbato e domenica, tocca tra gli altri a Mino Cinelu, franco-martinicano, e all'israeliano Yaron Herman trio.