Alexey Navalny, il blogger anti-Putin, apre una sede del suo comitato per le presidenziali
Commenti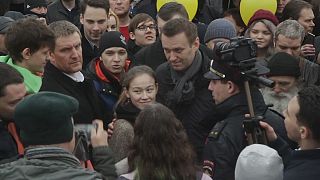 Non si ferma il leader dell'opposizione russo Alexey Navalny. Il famoso blogger anti-Putin ha inaugurato a Chelyabinsk una sede del suo comitato a Chelyabinsk in vista della campagna elettorale per le presidenziali.
Alexei Navalny is going to Tyumen and Chelyabinsk on his campaign tour. People come up to him in the airport to shake hands and take photos. https://t.co/yh6khR8IHU

— X Soviet (@XSovietNews) April 14, 2017
Sfidando ancora una volta il Presidente e il Primo Ministro Medvedev, Navalny e il suoi staff hanno promesso di aiutare a pagare le multe tutti quei manifestanti fermati durante la protesta contro la corruzione del 26 marzo. Dopo l'inaugurazione della sede, circondato da sostenitori e giornalisti, Navalny ha preso parte a un sit-in ecologista contro la costruzione di un complesso di miniere di rame.
Freed Putin critic Navalny says to keep organising protests https://t.co/XIGqt2KkCCpic.twitter.com/k7KIhUtJms

— Reuters Top News (@Reuters) April 11, 2017
Il leader dell'opposizione ha in programma di aprire 77 sedi in tutta Russia durante la sua campagna elettorale in vista delle presidenziali in programma nel 2018.