Belgio: trovato l'accordo sul CETA
Commenti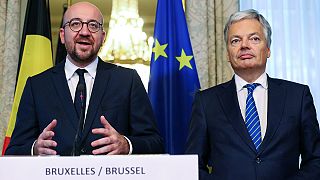 Accordo raggiunto, in Belgio, sul CETA, il Trattato sul libero commercio tra Europa e Canada.
Lo ha annunciato il premier Charles Michel, al termine di una riunione tra le varie regioni e comunità linguistiche.
È stata quindi superata l'opposizione della Vallonia, che aveva provocato l'annullamento del summit europeo previsto per questo giovedì per la firma del trattato.
Belgian agreement on #CETA . All parliaments are now able to approve by tomorrow at midnight. Important step for EU and Canada

— Charles Michel (@CharlesMichel) 27 October 2016
"Questo è un momento importante – ha dichiarato Charler Michel – perché darà ai rispettivi parlamenti la possibilità di decidere nelle prossime ore. Sulla base delle posizioni espresse dai parlamenti, saremo in grado di disporre dei poteri necessari per firmare questo accordo di libero scambio con il Canada."
Secondo i favorevoli, il CETA dovrebbe avere un impatto positivo sull'economia per 12 miliardi di euro.
Le numerose contestazioni riguardano i timori di eccessive concessioni alle aziende canadesi rispetto alle norme europee sul mercato del lavoro, l'ambiente e i diritti dei consumatori.