Yemen: bombe su funerale a Sana'a, oltre 100 i morti
Commenti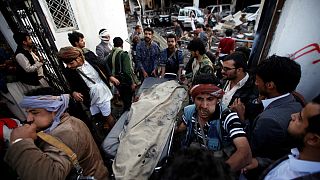 Si contano oltre un centinaio di morti nell'ultima strage in Yemen, nella capitale Sana'a. In bilancio è provvisorio considerate le condizioni disperate di molti degli oltre 550 feriti.
#Saudi atrocities in #Yemen
Double-tap strikes,They do it again 2day on the presence of hundreds of mourners in Great Hall capital #Sanaapic.twitter.com/yF6e7iW9sH

— I4Yemen (@I4Yemen) 8 octobre 2016
A colpire con un raid aereo sarebbero stati i caccia della coalizione sunnita a guida saudita. Lo denunciano i ribelli sciiti Houthi. Le bombe hanno centrato una sala dove era in corso un funerale del padre di un esponente di spicco dei ribelli.
"Gli aerei hanno colpito due volte – dice un testimone – Non sappiamo quante vittime ci sono, ma sono tantissimi civili feriti".
La bombe lanciate sull'area hanno lasciato terra bruciata. La coalizione a guida saudita ha smentito di essere responsabile della strage. Ma già in passato i raid avevano centrato obiettivi civili, come l'ospedale a Abs di Medici senza Frontiere, colpito lo scorso agosto. Nell'attacco sono morte 19 persone, tra pazienti e personale medico.