Finali NBA alla bella. LeBron James trascina la rimonta di Cleveland
Commenti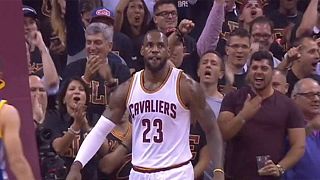 Un mostruoso LeBron James prende per mano i Cavaliers e trascina le finals di NBA alla bella.
Shake The Land, @KingJames!#ALLin216pic.twitter.com/P3255jf1Lw

— Cleveland Cavaliers (@cavs) 17 giugno 2016
Terza squadra nella storia a riuscire nell'impresa, sul parquet di casa Cleveland corona in gara sei una straordinaria rimonta, partita da un vantaggio di 3-1 Golden State.
For the first time in 50 years, team down 3-1 stretches Finals to Game 7 - #Cavs win, 115-101, in home finale. pic.twitter.com/qUAZ6n8vgs

— Joe Gabriele (@CavsJoeG) 17 giugno 2016
Con 41 punti, 8 rimbalzi e 11 assist a referto, Re James stronca sul nascere ogni tentativo di rimonta degli Warriors, confermandosi inarrivabile soprattutto nell'ultimo quarto.
Follia Curry: tira il paradenti su uno spettatore
Here, watch this dude get hit with Steph Curry's mouthguard in slow motion pic.twitter.com/prlTSwon3d

— Kenny Ducey (@KennyDucey) 17 giugno 2016
Giornata nera, sul fronte avverso, per Stephen Curry, che a quattro minuti e ventidue dal termine si fa espellere per falli e poi scaglia il paradenti su uno spettatore. Risultato: 115-101 alla sirena e, per lui, gara 7 a rischio.