Iraq: ucciso il ministro delle finanze dell'autoproclamato Stato islamico
Commenti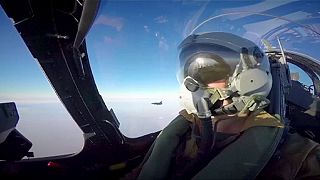 In Iraq è stato ucciso Abu Salah, nome con cui si faceva chiamare Muafaq Mustafa Mohammed al- Karmoush, il ministro delle Finanze dell'autoproclamato Stato islamico. La notizia è stata diffusa da fonti militari statunitensi secondo le quali altri due esponenti di spicco del gruppo terroristico sarebbero stati colpiti a fine novembre nel corso di raid della coalizione a guida americana.
"In Iraq abbiamo recentemente condotto raid contro tre leader della rete finanziari dell'Isil. La loro uccisione diminuirà la capacità di finanziamento dello Stato Islamico", ha detto il colonnello Steve Warren.
In un tweet anche l'inviato speciale di Barack Obama per la coalizione, Brett McGurk, ha parlato dell'uccisione di altri due esponenti del sedicente "Stato islamico".
Confirmed: Death of #ISIL finance minister Abu Saleh & 2 associates as part of coalition campaign to destroy ISIL's financial infrastructure

— Brett McGurk (@brett_mcgurk) 10 Dicembre 2015
Il Pentagono sta valutando nuove iniziative militari tra cui la creazione di una rete di basi militari in Africa, nei Paesi del sudovest asiatico e nel Medio Oriente. Obiettivo è quello di raccogliere dati d'intelligence ma anche lanciare raid contro gli affiliati al gruppo terroristico.