Elezioni Regno Unito: Cameron ha la maggioranza assoluta
Commenti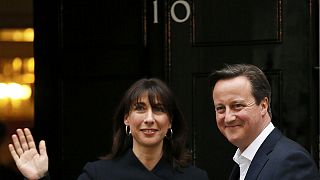 Sono i conservatori e gli indipendetisti scozzesi i vincitori delle elezioni legislative del Regno Unito. A pedere sono laburisti, Libdem e Ukip. Un trionfo per il partito conservatore di David Cameron che con 326 seggi su 650 ha la maggioranza assoluta necessaria a governare.
One nation, one United Kingdom – that is how I hope to govern if I am fortunate enough to continue as Prime Minister.

— David Cameron (@David_Cameron) May 8, 2015
Il primo annuncio, dopo essere stato
ricevuto dalla Regina, riguarda il ruolo del Regno Unito nell'Unione Europea. ''Ci sarà un referendum sul nostro futuro in Europa'', ha annunciato parlando di fronte all'ingresso del n.10 di Downing Street.
Whoever forms next govt will have huge task in terms of uniting our country

— Labour Press Team (@labourpress) May 8, 2015
Seggi al Parlamento ufficialmente attribuiti
In questo grafico in rosso c'è la percentuale di voti ottenuti dai partiti e in blu la percentuale corrispondente dei seggi conquistati in Parlamento
Pieno di seggi per lo Scottish National Party (Snp) che conquista 56 seggi. Nicola Sturgeon festeggia, quindi, una vittoria al di là di ogni più rosea aspettativa.
Thanks so much to everyone who voted @theSNP today. Whatever the results, I'm very proud of our campaign #GE15

— Nicola Sturgeon (@NicolaSturgeon) May 7, 2015
Notte amara per Ed Miliband, Nick Clegg e Nigel Farage. I leader dei partiti usciti sconfitti – Labour, Ukip e Libdem – si sono dimessi dai vertici. Farage è fuori anche dalla Camera dei Comuni. L'Ukip, pur ottenendo 12,5% e crescendo rispetto alle ultime elezioni politiche, resta con un solo seggio.
Wishing the best to all those a Lib Dems who've been knocking on doors all day. Final last push now. #winninghere

— Nick Clegg (@nick_clegg) May 7, 2015
Washington and Sunderland West result: LAB 55.0% (+2.4) UKIP 19.7% (+16.3) CON 18.9% (-3.0) But of course we're a "protest vote"…

— Nigel Farage (@Nigel_Farage) May 7, 2015
45 milioni di cittadini sono stati chiamati alle urne per il rinnovo dei 650 seggi della Camera dei Comuni.
Some of the best photos from this unpredictable general election. Follow our live coverage for all the latest news and results: http://eurone.ws/MGDh4

Posted by euronews on Friday, May 8, 2015