Disastro Germanwings: Merkel domani in Francia "profonda sofferenza"
Commenti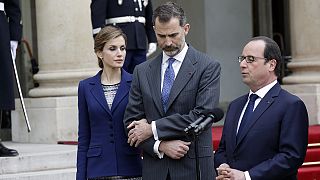 La notizia del disastro aereo ha raggiunto il re di Spagna Felipe VI a Parigi.
[Happening Now] Spanish King Felipe VI and fhollande</a> hold moment of silence for <a href="https://twitter.com/hashtag/Germanwings?src=hash">#Germanwings</a> <a href="http://t.co/Rve1LoJ3Pb">http://t.co/Rve1LoJ3Pb</a> <a href="http://t.co/z651KsAUGw">pic.twitter.com/z651KsAUGw</a></p>&mdash; euronews (euronews) March 24, 2015
La coppia reale si trovava nella capitale francese per una visita già programmata e il sovrano ha partecipato anche ad una riunione dell'unità di crisi del governo francese.
France #germanwings plane crash: what we know http://t.co/4wY8GAXChHpic.twitter.com/nN1LQPrpal

— euronews (@euronews) March 24, 2015
Terminato il vertice, Felipe e Letizia sono ripartiti per Madrid.
"In primo luogo tutti noi – la regina, il Presidente Hollande, i ministri -desideriamo esprimere le nostre sentite condoglianze alle famiglie che hanno perso i propri cari – ha detto il re di Spagna – Inoltre, vogliamo esprimere la nostra gratitudine alle autorità francesi, al presidente Hollande, al primo ministro Valls e a tutto il governo per tutte le misure che hanno messo immediatamente in atto".
Hollande ha anche avuto una telefonata con la cancelliera tedesca Angela Merkel. È stato il capo dello Stato francese a confermare che non ci sono sopravvissuti.
Airbus crashes in southern France, fhollande</a> says he fears there won&#39;t be any survivors <a href="http://t.co/JohffR0VWu">http://t.co/JohffR0VWu</a> <a href="http://t.co/JPIbZHpzdP">pic.twitter.com/JPIbZHpzdP</a></p>&mdash; euronews (euronews) March 24, 2015
"Voglio confermare al re che sono state predisposte tutte le misure per far luce sulle circostanze che hanno provocato l'incidente e per recuperare le vittime", ha detto François Hollande.
L'Eliseo ha inviato due ministri sul luogo dell'incidente e sta collaborando con il governo di Berlino.
#germanwings crash: German Chancellor Angela Merkel has made a statement in Berlin. Watch on http://t.co/Rve1LoJ3Pbpic.twitter.com/50UFe7kPbJ

— euronews (@euronews) March 24, 2015
Angela Merkel ha annullato tutti i suoi incontri per seguire le operazioni di soccorso e ha inviato nel sud-est della Francia un team di esperti.
"Oggi penso soltanto all'immensa sofferenza che questa catastrofe ha causato a così tante persone – le parole del capo del governo di Berlino – I miei pensieri e quelli dell'intero governo sono rivolti a quelle persone che hanno improvvisamente perso la vita. Tra questi, molti connazionali. La sofferenza delle loro famiglie è incommensurabile".
Il Cancelliere tedesco domani si recherà sul luogo del disastro per avere un quadro della situazione e per poter parlare con i responsabili. Ad accompagnarla ci sarà Hannelore Kraft, presidente del Nord Reno-Vestfalia.
#BREAKING: #Merkel will visit crash site of #Germanwings#A320 tomorrow pic.twitter.com/nBrKnCSWlw

— Rodrigo Barbosa (@RodaLarga) March 24, 2015