Un "dito medio" contro la Germania. Il video di Varoufakis scatena le polemiche
Commenti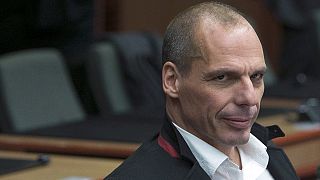 Yanis Varoufakis ha mostrato il dito medio ai tedeschi oppure no?
La polemica infuria da ieri in Germania, e potrebbe sembrare puro gossip, se non avesse scatenato accese discussioni nel paese anche sulla serietà dei media.
Tutto comincia con questo clip diffuso ieri dalla televisione tedesca.
Il filmato, risalente al 2013, è stato usato da una trasmissione satirica.
Varoufakis ha negato subito tutto, ne è scaturito uno scambio di tweet con gli autori della trasmissione, e oggi ha ribadito: "Ho già detto che questo video è stato ritoccato, è un gesto che non ho mai fatto in vita mia, e il popolo tedesco merita media migliori".
Wir erwägen künftig bei allen @neomagazin-Ausstrahlungen im TV und im ZDI den Warnhinweis "Vorsicht Satire!" zu platzieren. #varoufake

— ZDF (@ZDF) 19 Mars 2015
Sorry, @yanisvaroufakis! https://t.co/BSkYrbIIle (now with ENGLISH subtitles, full English and Greek subtitles available soon) #varoufake

— Jan Böhmermann (@janboehm) 18 Mars 2015
@janboehm Humour, satire & self deprecation are great solvents of blind nationalism. We politicians need you badly. https://t.co/CCXzHtfuKt

— Yanis Varoufakis (@yanisvaroufakis) 19 Mars 2015
Any apology in the offing GuentherJauch65</a>? For having used a doctored video to silence a conciliatory Greek voice? <a href="http://t.co/7SP6OcLIIv">http://t.co/7SP6OcLIIv</a></p>&mdash; Yanis Varoufakis (yanisvaroufakis) 19 Mars 2015
In un secondo momento, gli autori stessi della trasmissione hanno ammesso di averlo ritoccato, e anche mostrato al pubblico come hanno fatto.
Ma altri video che circolano sui social media sembrerebbero smentire anche questa versione.
Non è la prima volta comunque che lo stile "alla Fonzie" del ministro ellenico finisce sotto accusa.