Crudeltà verso gli animali, multato e denunciato il calciatore Kurt Zouma
Commenti
Di Euronews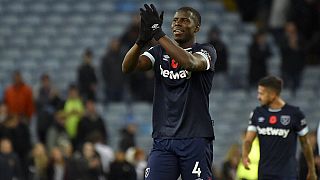 Diritti d'autore

Rui Vieira/Copyright 2021 The Associated Press. All rights reserved.

-
Il calciatore Kurt Zouma, al centro di una tempesta mediatica per la crudeltà verso gli animali, è stato multato per aver preso a calci uno dei suoi gatti.
Un video delle sue azioni è diventato virale sui social e ha portato ad una sanzione pecuniaria per il difensore francese del West Ham, che in seguito si è pubblicamente scusato.
Nel frattempo, Adidas ha annunciato di aver interrotto il rapporto di sponsorizzazione con il 27enne.
Inoltre, la Royal Society for the Prevention of Cruelty to Animals ha preso in affidamento i due gatti, sporgendo denuncia presso la Polizia.