Usa, comunità siriana divisa sui bombardamenti voluti da Trump
Commenti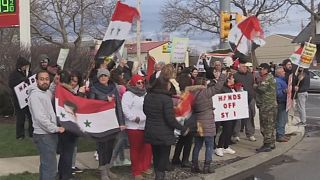 In Pennsylvania, dove vive una delle più grandi comunità siriane, i sostenitori di Assad, protestano contro i recenti bombardamenti decisi da Trump. In molti l'hanno votato, per l'annuncio fatto durante la campagna presidenziale, di non voler intervenire contro il regime siriano.
"Abbiamo scelto Trump perchè ha promesso che non sarebbe andato contro l'esercito siriano", ha commentato uno dei manifestanti.
What to know about the U.S. missile attack on Syria https://t.co/e0A6iYAC9Wpic.twitter.com/YmbvV9u0ZG

—

TIME

(@TIME) 7 aprile 2017
Diversa la posizione dei siriani americani ad Anaheim in California. Secondo loro, l'intervento degli Stati Uniti è necessario per risolvere la crisi siriana.
"Se l'America non aiuta la Siria per porre fine al conflitto", ha detto il proprietario del ristorante "Aleppo's Kitchen" ad Anaheim, "le cose rischiano di restare così come sono".
Dal 2011 La città nella contea di Orange in California, ha ospitato molti profughi siriani in fuga dagli orrori della guerra che qui hanno cercato di costruirsi una vita nuova.