Siria, intervento militare Usa in risposta all'attacco chimico
Commenti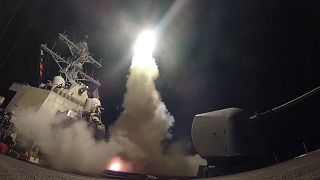 Gli Stati Uniti colpiscono la Siria, per vendicare l'attacco chimico che ha provocato la morte di oltre 80 civili. L'offensiva militare americana è iniziata con il lancio di 59 missili Tomahawk da due navi di stanza nel mediterraneo.
L'operazione è iniziata intorno alle 4 del mattino ora locale e rappresenta il primo intervento militare diretto degli Usa contro la Siria dopo l'insiediamento di Trump.Colpita la base di Al Shayrat nel centro del paese, da cui era partito il raid di gas tossici di martedì che si è abbattuto nell'area di Khan Sheikhoun.
Footage released by US DeptofDefense</a> shows missile launches against targets in Syria<br><br>Follow updates: <a href="https://t.co/t2B1V84ECI">https://t.co/t2B1V84ECI</a> <a href="https://t.co/pm8F6Ymng6">pic.twitter.com/pm8F6Ymng6</a></p>&mdash; BBC News (World) (BBCWorld) 7 aprile 2017
"Nessun bambino dovrebbe soffrire" come hanno sofferto quelli siriani, così il presidente americano che ha precisato che l'intervento è "nel vitale interesse della sicurezza degli Stati Uniti".
The decision to use military force against Syria is a remarkable reversal for Donald Trump https://t.co/Tz0YLXlUqf

—

CNN

(@CNN) April 7, 2017
Le forze governative siriane hanno criticato l'offensiva americana. Gli Stati Uniti, ha detto un portavoce dell'esercito di Assad, in questo modo, "diventano alleati dello Stato Islamico e di altre organizzazioni terroristiche".
Il recente attacco chimico ha cambiato l'atteggiamento del presidente americano verso la Siria. Fino ad oggi, l'inquilino della Casa Bianca aveva escluso un intervento. Un cambio di rotta già annunciato dalla dichiarazione dell'ambasciatrice americana alle Nazioni Unite, secondo cui esistono momenti in cui se l'Onu non interviene, Gli Stati Uniti sono costretti a farlo per conto proprio.