Trump, nuovo stop dalle Hawaii al "muslim ban"
Commenti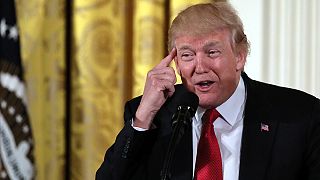 Nuova battuta d'arresto per Donald Trump. La nuova versione del travel ban, il decreto anti-immigrazione del presidente americano è stata bloccata, per ora, a tempo indeterminato su tutto il territorio degli Stati Uniti. Lo ha stabilito il giudice federale delle Hawaii, Derrick Watson. Contro la sua decisione potrà appellarsi il Dipartimento di Giustizia. "Non è insolito che si attui una clausola del genere anche solo per un numero limitato numero di persone, ha dichiarato il procuratore generale Douglas Chin, se la libertà di religione viene in qualche modo limitata o minacciata, allora questo è sufficiente per sollevare una violazione costituzionale."
BREAKING: Federal Judge In Hawaii Grants Injunction Against Trump's Travel Ban —> https://t.co/n63N4oKLk5pic.twitter.com/baBbACXVva

— Chris Geidner (@chrisgeidner) 30 marzo 2017
Secondo Watson il bando varato da Trump, che vieta l'entrata negli Stati Uniti ai cittadini di sei paesi a maggioranza musulmana (Iran, Libia, Siria, Somalia, Sudan e Yemen) è stato emesso con l'obiettivo di svantaggiare una particolare religione.
JUST IN: A federal judge in Hawaii has extended the order that blocks President Trump's travel ban https://t.co/Vj8URJ2Hchpic.twitter.com/0qfZJDxNlS

—

CNN

International (@cnni) 30 marzo 2017
La seconda versione del decreto prevede anche di chiudere temporaneamente le frontiere americane ai rifugiati di tutto il mondo. Un decreto che ha sollevato polemiche e forti critiche da parte di molti cittadini stranieri residenti negli Stati Uniti.