Strage al mercato di Natale, per Berlino messaggi di solidarietà da tutto il mondo
Commenti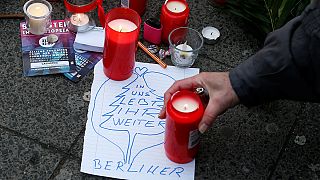 Il mondo si strige attorno alle vittime dell'attacco al mercato natalizio di Berlino nel quale sono morte 12 persone. I social media sono inondati di messaggi di solidarietà con la capitale tedesca.
I wish Berlinners all the strength and love that is needed right now. #BerlinAttackhttps://t.co/6sFyp51YEFpic.twitter.com/QzuIQ8B0YG

— 9GAG (@9GAG) December 20, 2016
#Berlin#berlinattack We are together pic.twitter.com/Di996QgLzq

— Frédérique Ries (@Frederiqueries) December 19, 2016
L'ashtag #PrayForBerlin è diventato virale. Mentre i berlinesi lasciano fiori e candele sul luogo dell'attentato, in rete è stato creato un quaderno delle condoglianze virtuale.
#PrayforBerlin op sociale media https://t.co/dXtpAsBD8O#Berlijnpic.twitter.com/w4GjA29GQw

— De Telegraaf (@telegraaf) December 19, 2016
We're tired of waking up to hashtags.

We're tired of hate, violence, body counts.

We're tired of living like this.#PrayforBerlin

— We Are Southpaw (@WeAreSouthpaw) December 20, 2016
Pray for Berlin, Pray for Syria, Pray for Iraq. Pray for this whole world because we need it more than anything. #PrayForBerlin

#PrayForBerlinpic.twitter.com/jttBNe4vzw

—

SPD

Parteivorstand (@spdde) 19 décembre 2016

Un tributo particolarmente emotivo arriva da Nizza, vittima di un attacco simile nel mese di luglio, in cui persero la vita 86 persone.

.VilledeNice</a> & Niçois solidaires du peuple allemand face à l&#39;horreur.Ttes nos pensées aux victimes & familles <a href="https://twitter.com/hashtag/IchBinEinBerliner?src=hash">#IchBinEinBerliner</a> <a href="https://twitter.com/hashtag/ILoveNice?src=hash">#ILoveNice</a> <a href="https://t.co/1VtDg0loua">pic.twitter.com/1VtDg0loua</a></p>&mdash; Ville de Nice (VilledeNice) 20 décembre 2016

Bandiere a mezz'asta in tutta la Germania e all'esterno di tutti gli uffici della Commissione europea in segno di rispetto per le vittime.

Condolences to the families & relatives of all those who were killed or injured in #Berlin. We stand united with the victims in deep sorrow. pic.twitter.com/m56QieNqVM

— European Commission (@EU_Commission) December 20, 2016

I messaggi di cordoglio dall'Italia

Dolore per la strage di Natale a #Berlino, vicinanza a Angela Merkel e a tutto il popolo tedesco

— Paolo Gentiloni (@PaoloGentiloni) December 19, 2016

Le nostre lacrime e il nostro cuore con i fratelli tedeschi e con Berlino

— Matteo Renzi (@matteorenzi) December 19, 2016