Germania: fulmine sul pubblico di una manifestazione rock, 70 feriti
Commenti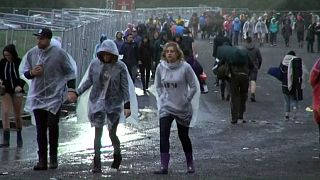 Un fulmine ha funestato un festival rock nell'ovest della Germania facendo oltre 70 feriti, 15 in gravi condizioni. A Mendig, circa 80 chilometri a sud di Colonia, 90mila persone stavano partecipando alla manifestazione "Rock am Ring" quando si è verificato un violento temporale. Episodio non nuovo, un fulmine si era abbattuto sul pubblico durante lo stesso evento lo scorso anno causando 33 feriti.
"Il fulmine è stato abbastanza violento, è successo tutto molto velocemente alla nostra destra, prima una luce e poi due secondi dopo a venti metri di distanza abbiamo visto il fulmine. È stato brutto", racconta un giovane.
"Al momento non avevo pensato che fosse successo qualcosa di così grave. Quando l'ho saputo, sono stata presa dal panico. Non avevo immaginato che il pericolo fosse tanto elevato", aggiunge una ragazza.
Gli organizzatori hanno deciso per il momento di sospendere la manifestazione rock dato che le previsioni meteorologiche annunciano nuove tempeste.
Due to instructions of the Mendig authorities we were ordered to suspend the festival for the moment being: https://t.co/qVh77DjuwP#rar2016

— Rock-am-Ring (@rockamring) 4 giugno 2016
L'ondata di maltempo che sta attraversando l'Europa non dà tregua alla Germania. Le inondazioni hanno fatto almeno 11 vittime in Baviera e nel Baden-Wurttemberg, tra le zone più colpite.