ATP Rotterdam, Klizan non sbaglia un colpo: Monfils ancora ko
Commenti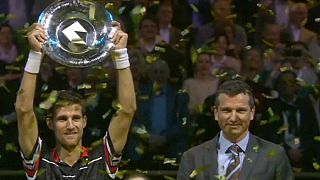 Non si puo' certo imputare a Martin Klizan di avere il braccino nei momenti decisivi… Lo slovacco, numero 43 del ranking ATP, si conferma uomo da partita secca, dopo il trionfo nel torneo ATP di Rotterdam.
"I cannot believe that it happened!" #Klizan reacts to abnamrowtt</a> win over Monfils. More: <a href="https://t.co/cSI9v2NE3K">https://t.co/cSI9v2NE3K</a> <a href="https://t.co/xHo8j2yY7p">pic.twitter.com/xHo8j2yY7p</a></p>&mdash; ATP World Tour (ATPWorldTour) 14 Febbraio 2016
6-7, 6-3, 6-1 i parziali per Klizan, che nell'atto conclusivo ha superato Gael Monfils. Quattro finali giocate, altrettanti successi per il 26enne slovacco, al successo piu' importante della carriera, arrivato oltretutto dopo aver salvato otto match-point nei due turni precedenti.
WINNER OF THE 2016 ABNAMRO</a> WORLD TENNIS TOURNAMENT: MARTIN KLIZAN! <a href="https://twitter.com/hashtag/abnamrowtt?src=hash">#abnamrowtt</a> <a href="https://t.co/pIsUdVq60y">pic.twitter.com/pIsUdVq60y</a></p>&mdash; ABN AMRO WTT (abnamrowtt) 14 Febbraio 2016
Monfils, quinta testa di serie del tabellone, si conferma un'eterna incompiuta. Per il francese si tratta della 18esima sconfitta in finale, a fronte di appena cinque successi. Ecco, invece, uno con il braccino nei momenti che contano…