Summit clima: esperti approvano bozza, base per negoziati fra i ministri
Commenti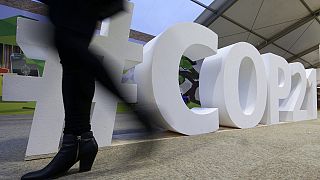 La base è approvata, ora arriva la parte più difficile: al summit sul climadi Parigi, i negoziatori di 195 Paesi hanno stilato una bozza di 48 pagine, sulla quale dovranno concentrarsi i ministri a partire da lunedì, per raggiungere un accordo entro l'11 dicembre. Tante le opzioni fra parentesi e i punti essenziali ancora aperti: l'aumento delle temperature, che alcuni vogliono contenere entro 1,5 gradi, altri entro 2, e il finanziamento degli aiuti ai Paesi del sud del mondo.
.LaurenceTubiana</a> "Si nous continuons dans cette voie je ne doute pas de notre succès vendredi 11 décembre" <a href="https://twitter.com/hashtag/COP21?src=hash">#COP21</a> <a href="https://t.co/Yg9przMhIg">pic.twitter.com/Yg9przMhIg</a></p>&mdash; COP21 - Paris 2015 (COP21) 5 Décembre 2015
"C'è un'ampia volontà politica di raggiungere un accordo globale qui a Parigi e questa è una buona notizia", afferma Martin Kaiser, direttore delle politiche internazionali sul clima di Greenpeace. "Ciò che manca nel testo è un'idea chiara verso energie al cento per cento rinnovabili entro la metà del secolo che imprima un cambiamento in grado di aiutare chi soffre a causa degli effetti del surriscaldamento globale".
Process towards a cop21</a> agreement seems to be on track, ambition options still included but 100% <a href="https://twitter.com/hashtag/renewables?src=hash">#renewables</a> by 2050 <a href="https://twitter.com/al">al still missing!

— Martin Kaiser (@martinkaisergp) 5 Décembre 2015
Il tempo per salvare il mondo dal disastro è ormai poco visti i gravi effetti dei cambiamenti climatici : a sottolinearlo anche dodici iceberg, ricavati da un fiordo della Groenlandia, installati sulla piazza del Pantheon nella capitale francese, un progetto guidato da un artista danese-islandese.
COP21: des blocs de glace du Groënland devant le Panthéon à Paris https://t.co/LuOYdLF086pic.twitter.com/iHY5nUxm63

— 20 Minutes (@20Minutes) 3 Décembre 2015