I 50 migliori ristoranti al mondo: al primo posto la Spagna
Commenti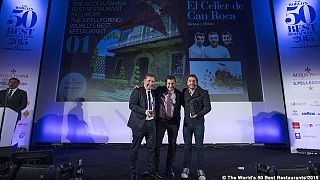 In Spagna si trova il migliore ristorante al mondo. "El Celler de Can Roca" a Girona è salito sul podio a Londra. ''The World's 50 Best Restaurants 2015'' ha decretato il ristorante dei fratelli Roca come il migliore della ristorazione mondiale. Non si tratta di una new entry, ma di una riconferma: il ristorante era già al primo posto nel 2013.
#Worlds50Best 2015: El Celler de Can Roca reclaimed the top spot on the list with Osteria Francescana and Noma at Nos.2 and 3 respectively.

— The World's 50 Best (@TheWorlds50Best) 2 Giugno 2015
Al secondo posto si piazza l'Italia con l'Osteria Francescana di Modena di Massimo Bottura, al terzo il Noma di Copenaghen di René Redzepi. Anche queste sono delle vecchie conoscenze della classica del 2013 che a guardare bene è esattamente la stessa di quest'anno. Ha guadagnato una posizione Bottura, chef dell'Osteria Francescana di Modena, simbolo della nuova cucina italiana.
A few of our favourite photos of the night. pic.twitter.com/ll4Lwa0Viw

— The World's 50 Best (@TheWorlds50Best) 2 Giugno 2015
21 Paesi, 6 continenti: a Londra, dal 2002, si celebra e valuta la gastronomia mondiale scoprendo anche le nuove tendenze dell'alta cucina.
''Confortevole e al tempo stesso gastronomicamente impegnativo, la loro cucina è artigianale e tecnica, con riferimenti sia alla tradizione che all'avanguardia'' è parte della motivazione ufficiale con cui è stato premiato "El Celler de Can Roca".
La Spagna ha ben sette ristoranti nella lista dei migliorii 50. La Francia ne annovera cinque, gli Stati Uniti sei. Il Sud America ne vanta nove, l'Asia solo sette. A scegliere è stata una giuria composta da 972 votanti, di 27 Paesi. Ogni nazione ha 36 votanti.
Top 10
.
3. Noma
4. Central
5. "Eleven Madison Park"http://elevenmadisonpark.com/
6. Mugaritz
7. Dinner by Heston Blumenthal
8. Narisawa
9. D.O.M.
10. Gaggan
I 50 migliori ristoranti: paese per paese
Mappa