Esercito Iraq e milizie sciite pronte a rinconquista Ramadi
Commenti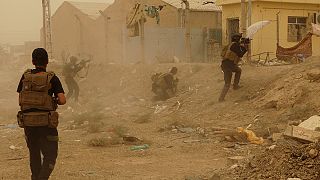 L'esercito iracheno e le milizie sciite di Mobilitazione Popolare guidate dall'Iran prendono posizione alle porte di Ramadi per riconquistare la città caduta in mano al gruppo Stato Islamico.
I combattimenti continuano alla periferia di Ramadi, capoluogo della provincia di Anbar, città strategica, meno di cento cinquanta chilometri a Ovest dalla capitale Baghdad.
Nonostante l'appoggio dei raid aerei degli Stati Uniti – 8 nelle ultime 24 ore – l'esercito iracheno ha dimostrato la propria debolezza difronte all'organizzazione dei militanti jihadisti che già controllano Falluja, alle porte di Baghdad.
For #ISIS, it's still a very long way to Baghdad http://t.co/koCFZtkh3W#Ramadipic.twitter.com/TOkt9EpOOl

— Haaretz.com (@haaretzcom) 19 Maggio 2015
Da Ramadi, un grosso centro con poco meno di 500.000 abitanti, sono circa 24.000 le persone costrette a fuggire sotto la minaccia delle armi e dell'avanzata del gruppo Stato Islamico.
The pain of an Iraqi family separated in flight from #Ramadi in #Anbar province http://t.co/mXmu5rQV8U#Iraq

—

UNHCR

Iraq (@UNHCRIraq) 18 Maggio 2015
Le forze alleate hanno preso il controllo di parte della città di Karma, vicino a Falluja, e requisito le armi abbandonate dai militanti islamici che tuttavia ancora controllano il cuore della cittadina.
Il Pentagono ieri aveva definito una grave sconfitta la perdita di Ramadi. Oggi la Casa Bianca rettifica, definendo la caduta della città una "battuta d'arresto" nella lotta contro l'Isis.