Harrison Ford precipita su un campo da golf. Il figlio twitta: "Malconcio, ma OK".
Commenti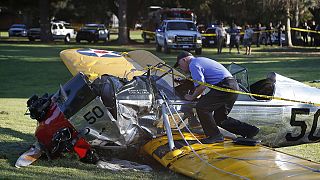 Harrison Ford è precipitato con il suo aereo su un campo da golf, nei pressi di Santa Monica, in California.
L'attore sarebbe ferito seriamente alla testa e al volto, ma sarebbe comunque uscito cosciente dai rottami del velivolo.
Ford pilotava un Ryan PT-22 Recruit, un piccolo monoelica da addestramento della seconda guerra mondiale.
Secondo un testimone, l'apparecchio ha perso potenza subito dopo il decollo dall'aeroporto di Santa Monica e ha tentato di rientrare in pista, ma avrebbe colpito degli alberi per poi schiantarsi su un campo da golf.
I primi a soccorrerlo, proprio alcuni medici impegnati in una partita.
"Papà è malconcio ma sta bene", ha twittato suo figlio Ben.
At the hospital. Dad is ok. Battered, but ok! He is every bit the man you would think he is. He is an incredibly strong man.

— Chef Ben Ford (@ChefBenFord) March 6, 2015
72 anni, Harrison Ford è un appassionato pilota di elicotteri e piccoli aerei e in passato ha già avuto incidenti di questo tipo.