Mondiali di nuoto: perdono in vista per Phelps?
Commenti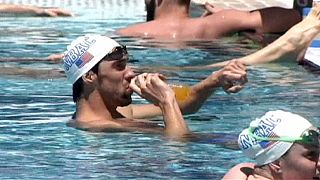 Michael Phelps potrebbe partecipare ai prossimi Mondiali di nuoto, in programma dal 17 luglio a Kazan. Il 18 volte campione olimpico sta scontando una squalifica di sei mesi inflitta dalla Federnuoto statunitense dopo l'arresto per guida in stato di ebbrezza dello scorso settembre.
BREAKING: ESPN reports that Michael Phelps could be reinstated for 2015 Worlds by USA Swimming http://t.co/lDK4sR4wzk

— SwimOutlet.com (@SwimOutlet) 4 Marzo 2015
Ai microfoni di Espn, il direttore della Nazionale, Chuck Wielgus non ha escluso una sospensione della pena che permetterebbe al fuoriclasse di Baltimora di essere regolarmente in vasca ai Mondiali russi.