Save the Children: "Preoccupazione per i minori in Indonesia"
Commenti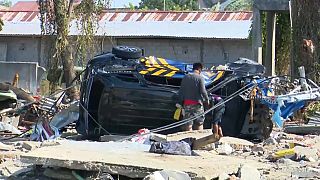 Per capire le condizioni in cui si trovano molti minori in Indonesia, abbiamo parlato con Tom Howells, responsabile di Save the Children di Jakarta.
"Stimiamo che circa un milione e mezzo di persone si trovino nell'area colpita dal terremoto e dallo tsunami e pensiamo che circa un terzo di loro possano essere state gravemente colpite. Ora stiamo un po alla volta raggiungendole e siamo molto preoccupati per alcuni luoghi chiave come Dongala. Non abbiamo notizie da lì nelle ultime 48 ore e abbiamo anche sentito parlare di frane in un luogo chiamato Sigi, e quindi siamo molto preoccupati anche per questo".
Disastri come questo colpiscono prima di tutto i bambini. Come possiamo descrivere la situazione attuale dei bambini in Indonesia?
"Da un lato siamo preoccupati per i rischi di natura psicologica, per il fatto che i bambini abbiano visto distruggersi le loro case. Con traumi di questo tipo ci si deve aspettare un seguito con crisi di panico e di angoscia. Inoltre ci sono dei bambini separati dalle famiglie, i nostri operatori sono sul campo e lavorano con le autorità di governo per far si che i minori possano ricongiungersi alle loro famiglie".